Finding Lodging for the Gathering!
The Great Alaska Aviation Gathering will take place in Palmer at the Alaska State Fairgrounds and the Palmer Municipal Airport this year.
The closest lodging can be found in Palmer and Wasilla, but Anchorage is only a 45-minute, scenic drive from the event.
Suggested Lodging and RV rentals
We suggest the following establishments (prices may vary):
AirBnb
There are several Airbnb options avialble this year!
Palmer
Wasilla
Anchorage
Camping or Parking your RV?
Matanuska River Park Campground
The Mat-Su Borough has generously offered to open the campground early for this event. Due to wet conditions, only the upper campgrounds and RV spots will be available.
Please call (907) 861-8578 to reserve a spot. Restrooms and comfort stations will be open and accessible throughout the weekend.
There are RV sites with 30-amp power, a water fill station for the RV tanks, and an RV dump station to empty tanks at the end of your stay.
The water, electricity, and dump are included in the $30 nightly camping fee. The dry camping fee is $20.
Hot showers are also included in the camping fee for the park.  If you have any other questions feel free to contact the Matanuska River Park Campground at (907) 861-7661 or e-mail them at warren.templin@matsugov.us.
FREE SHUTTLE provided between the campground, Palmer Municipal Airport and the Alaska State Fairgrounds!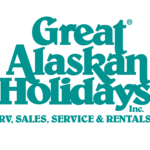 Great Alaskan Holidays
Great Alaskan Holidays would like to welcome you to this year's annual Alaska Airmen's Association Show.  Great Alaskan Holidays is Alaska's largest RV rental company, providing comfortable touring and lodging solutions to travelers visiting Alaska from around the world for over 36 years now.
In the spirit of this year's event, we'd like to introduce to you an option you may never have considered before.  An RV rental for your stay here in Alaska, either before the show, during, or after.
Great Alaskan Holidays is offering a 20% discount off our rental rates for anyone coming into Alaska to attend this year's event.  All rentals must begin no earlier than May 1, 2022 and completed no later than May 23, 2022.  All floor plans are available under this promotion, and there is a 3-night minimum.  Other than that, you can rent your home-on-wheels for as long as you like.  Simply use Promo Code AAAM20 when placing your order, which you can do by either clicking here or contacting our Reservations Department directly at (907) 248-7777, and then selecting Option 1.
If reserving online, this Promo Code must be typed in manually.
Park it at the show and live in it.  Travel through Alaska before taking in the event or extend your stay to take full advantage of an opportunity you may never have again…..tour Alaska in the safety, privacy, and comfort of your own RV rental.