2022 Scholarship Season
Our members are proud to support the growth of aviation as an industry and lifestyle. We partner with aviation legends to award multiple scholarships each year, designed with the next generation of aviation professionals and enthusiasts in mind. We know how expensive the aviation industry is, which is why we are so excited to award over $102,500 worth of scholarships!
The 2022 Scholarship Season has closed. We'd like to deeply thank our donors and applicants for another record-breaking season! Alaskans have spoken up, and our community clearly places immense value on local aviation. This upcoming generation of aviation professionals and enthusiasts is eager to establish a foothold in the industry, and funds are flowing in from all corners of the state to support them. As your local GA non-profit, we are thrilled to thank you for playing your part in preserving our aerial way of life!
How to Apply
Applications will re-open in January of 2023. Keep an eye out for events and information throughout the fall to prepare for next year. We'll teach you how to hone your application package to maximize your chances of receiving a scholarship.
Our scholarships help fund:
Pilots
Aircraft mechanics and technicians
Air traffic controllers
Airport managers
Drone pilots
Aerospace engineers
and more!
Scholarship Categories
Our scholarships are broken down into the following categories:
Aircraft Maintenance & Fabrication
Airport Operations, Management, & Air Traffic Control
Piloting: from zero-time through ATP and beyond! New Aviation Discovery Scholarships: $500 to see whether flying is for you.
Other Aviation Pursuits (drone piloting, aerospace engineering, astronaut, etc.)
Annually Recurring Scholarships
These scholarships recur year after year thanks to incredibly generous donations from their benefactors.

CHRISTIAN D. BOHRER MEMORIAL SCHOLARSHIP - $2,500
Christian was a successful, young flight instructor who always looked to share his passion for aviation
in Alaska's community
. Christian was a natural teacher with a constant focus on 'safety first". Christian passed away in 2016, at age 20, when the aircraft he was a passenger in was brought down by a bird strike. Christian's dream to become a professional pilot will live on through the Alaska Airmen's Association's $2,500 scholarship in his honor, aiding fellow Alaska residents in pursuing their piloting careers.
This scholarship awards an applicant $2500 toward the pursuit of a professional piloting career.
BOB REEVE AVIATION MANAGEMENT - $3000
The original "Glacier Pilot", Bob Reeve is an undisputed legend in Alaska for the creation and management of his Airline, Reeve Aleutian Airways. A company that served wild Alaskan villages and remote islands for over 70 years. He knew better than anyone the skill, patience and effort required to manage pilots. The Alaska Airmen award $3,000 every year in his honor to an individual seeking a career in Aviation Management, Dispatch or ATC.
This scholarship awards an applicant $3000 toward a career in aviation management (to include areas of operations, safety, & education), dispatch, or a career in the ATC field.
JOHN P. CULHANE PROFESSIONAL PILOT SCHOLARSHIP - $2,500 
To his friends at the Alaska Airmen's Association John Culhane was known simply as "Jack". We are honored to be awarding $2,500 dollars to a deserving aviator, in the memory of one of our own.  Jack contributed much of his time to the industry of aviation in Alaska, through his position as Director for the Alaska Airmen Association.  We are proud to carry on his legacy, by helping the Professional Piloting industry grow stronger every year with a scholarship for a career seeking pilot.
This scholarship awards an applicant $2500 toward the pursuit of a professional piloting career.
BOB ELLIS MEMORIAL - $500 
A war hero and pioneer aviator, Bob Ellis's passion for aviation was equaled only by his commitment to Southeast Alaska. From making history in amphibious airplanes, to creating an airline that ultimately became what we know as Alaska Airlines, to becoming Ketchikan's town mayor and two term Territorial Legislature Senator.  Bob's enthusiasm for aviation in the Southeast is carried on by the Alaska Airmen by awarding a $500.00 scholarship to a Southeastern Alaska Resident.
This $500.00 scholarship is open to residents of Southeast Alaska who intend to pursue a career in the aviation industry.
F. ATLEE DODGE MAINTENANCE SCHOLARSHIP - $2500
Atlee Dodge is a well know name to every Alaskan Aviator. His knowledge of the inner workings of Alaskan Bush planes is unsurpassed and his improvements for all things Super Cub are felt and appreciated to this day. The Alaska Airmen are proud to continue on his journey of airplane advancements by providing $2,500 for a student looking toward Aircraft Maintenance as a career.
This scholarship awards an applicant $2500 toward the pursuit of a professional career in aircraft maintenance.
JOE STANCIL JR. FLIGHT TRAINING SCHOLARSHIP- $3000
For would-be pilots looking towards aviation as a life goal and not necessarily a career, the Alaska Airmen partner with Joe Stancil Jr. to award a $3,000 private pilot scholarship. This scholarship is open to all Alaska residents who are in pursuit of their private pilot license and are planning to fly in Alaska.  This includes building hours in the cockpit toward their private pilot license. Proof of ground school participation via letter from instructor or course transcripts and CFI letters of recommendation will be required.
This scholarship awards an applicant $3000 toward a Private Pilot Certificate

DON AND CAROL BEDFORD MEMORIAL SCHOLARSHIP - TWO SCHOLARSHIPS WORTH $2500 EACH
Don and Carol Bedford were a team. Don had earned his Airframe and Power License and was well on the way to a degree in aeronautical engineering when he felt impelled to join the workforce at Lockheed Aircraft at the outbreak of WW II. Don later joined the Army Air Corps where he eventually joined the Aviation Cadet program. He was transitioning to fighters when the war ended. He returned to Lockheed where he rubbed shoulders with the likes of Tony LeVere Howard Hughes and worked on the P-80 program. in 1947 Don took a job with Alaska Coastal Airlines in Juneau where he stayed through a series of mergers to retired from Alaska Airlines i n 1993. Carols was from the Chicago area where she attended business school. She traveled to Alaska on a whim took a job at Alaska Airlines where the two met. Don was one of the first authorized inspectors in Southeast Alaska, an area where he remained active throughout the rest of his life. He also flew and restored small aircraft. Carol supported Don in all his endeavors, kept up with the billing and paperwork and "tended the home fires."
Two $2500 scholarships will be awarded to two different applicants.
One scholarship will be awarded to an applicant pursuing a career in aviation mechanics while the other will be awarded to a female applicant pursuing a career in the aviation field.

MAJOR WILLIAM JAMES HEAD AVIATION SCHOLARSHIP- $2,500
Major Bill J. Head (Ret.) flew both fixed wing and rotary wing during his twenty year career in the U.S. Army. After his retirement from the Army he continued his flying for both fun and, on and off, as a commercial pilot. He passed on a great love of aviation to his two sons, both of whom have pilot certificates. Bill was continually on a quest for knowledge in whatever field caught his fancy at the time, and it is in this vein that his family wishes to help someone follow their quest to fly, whether for fun or for occupation (or maybe both).
 "The person with the most gold when they die isn't the winner, it is the person with the most stories."
This scholarship was donated by Beluga Air and will award an applicant $2,500 toward the pursuit of a professional piloting career.
2022 Scholarship Donors
These generous donors funded our 2022 scholarships. We are grateful for their contribution to Alaska aviation!

We would like to offer a special thank you to the Saltchuk family of companies whose generous donation allowed us to fund five scholarship awards for 2022.
Barry Santana
Barry donated $2,500 towards two scholarships. We've matched his donation, stretching his funds. Barry's contribution will provide a $2,500 Aircraft Mechanic Scholarship in honor of Voight Clum and a $2,500 Pilot Scholarship in honor of Jay Hammond, whose Cessna 185 Barry now flies.
Austin and Merry Engebretson
Austin and Merry donated $2,500 towards to create two scholarships. We've matched their funds allowing for two $2,500 scholarships.
Mat-Su Valley 99's
The local 99's chapter funded a scholarship for a female pilot. We matched their donation to provide a $2,500 award.
James Baum
James donated $5,000, fully funding two scholarships. His donation will provide a $2,500 pilot scholarship and a $2,500 aircraft mechanic scholarship.
Alaska Flying Dames
The Alaska Flying Dames scholarship was donated anonymously. These funds are intended to support a female pilot.
Sutton Aircraft Salvage
A home-operated aircraft salvage yard located 4 miles north of Palmer specializing in Cessna parts.
Donation in Memory of Phil Block, retired Alaska Airlines Pilot
Smaller donations from various members totaling over $4000!

FRIENDS AND FAMILY OF HOWARD KNUTSON IN HIS MEMORY
When Howard Knutson was 10 he saved his money and went for his first airplane ride. The ride cost him $5. He knew then that one day he would fly. Howard moved to Alaska in 1953, getting his pilot's license that first year. He went on to become a bush pilot and a commercial pilot.
Howard's friends and family donated to fund a pilot scholarship in his memory.

CO-FUNDED SCHOLARSHIPS
As part of our commitment to considerably strengthen our scholarship program through additional funding, the Airmen's Association has been partnering with other community and industry actors to co-fund even more scholarships for Alaska's aviation students.
If you would like to honor the name of an individual or have your business recognized while supporting the aspirations of young aviation enthusiasts, the Alaska Airmen's Association will match your donation up to $1,250 .
                                  For more information, please email scholarships@alaskaairmen.org
Domenic Giunta – Alaska Airmen Association Scholarship (Private Pilot License)
Carol Zerbe and I were just about to do stall awareness training on this flight. Thank you, Airmen, for the scholarship, it has helped immensely!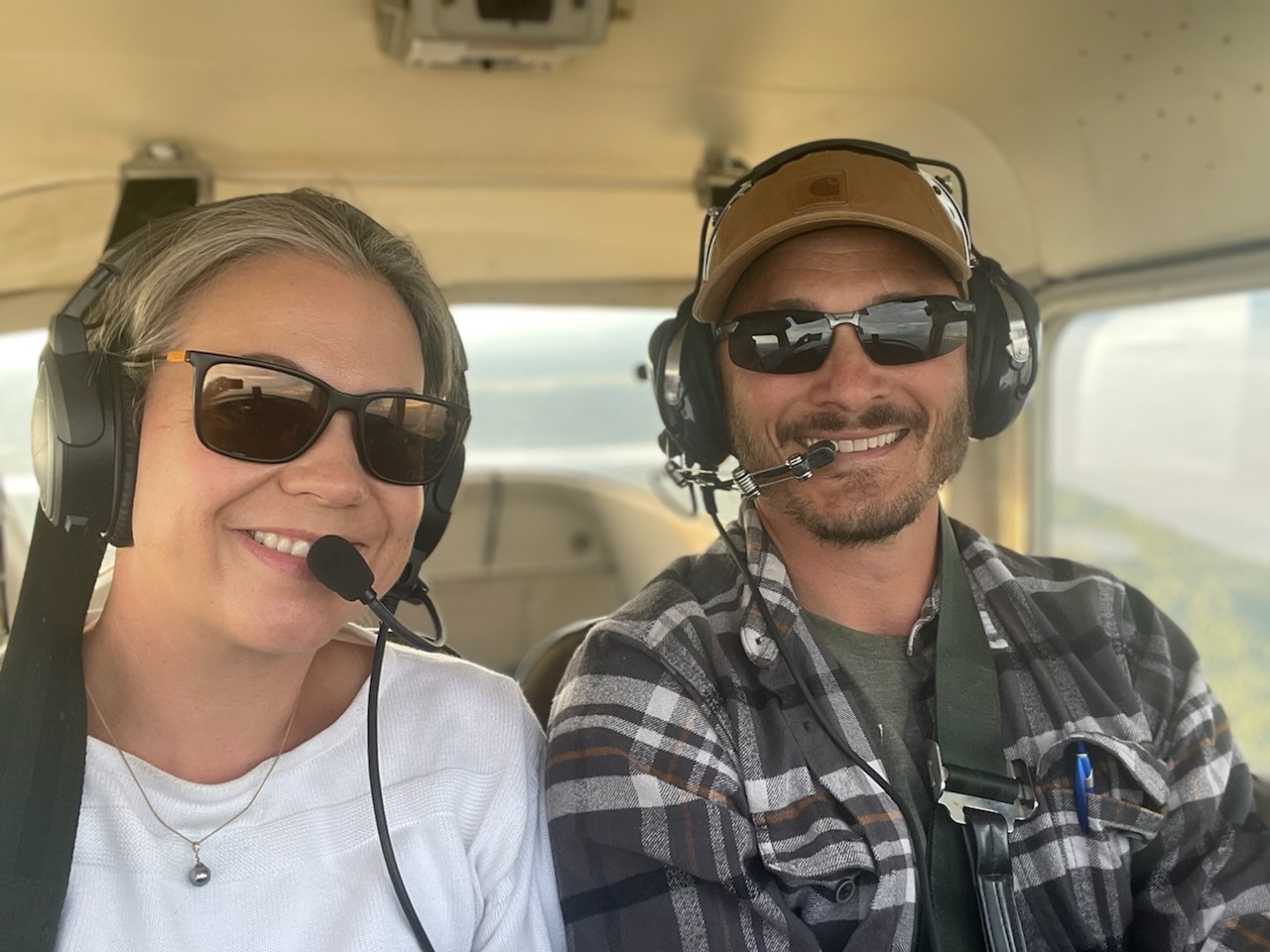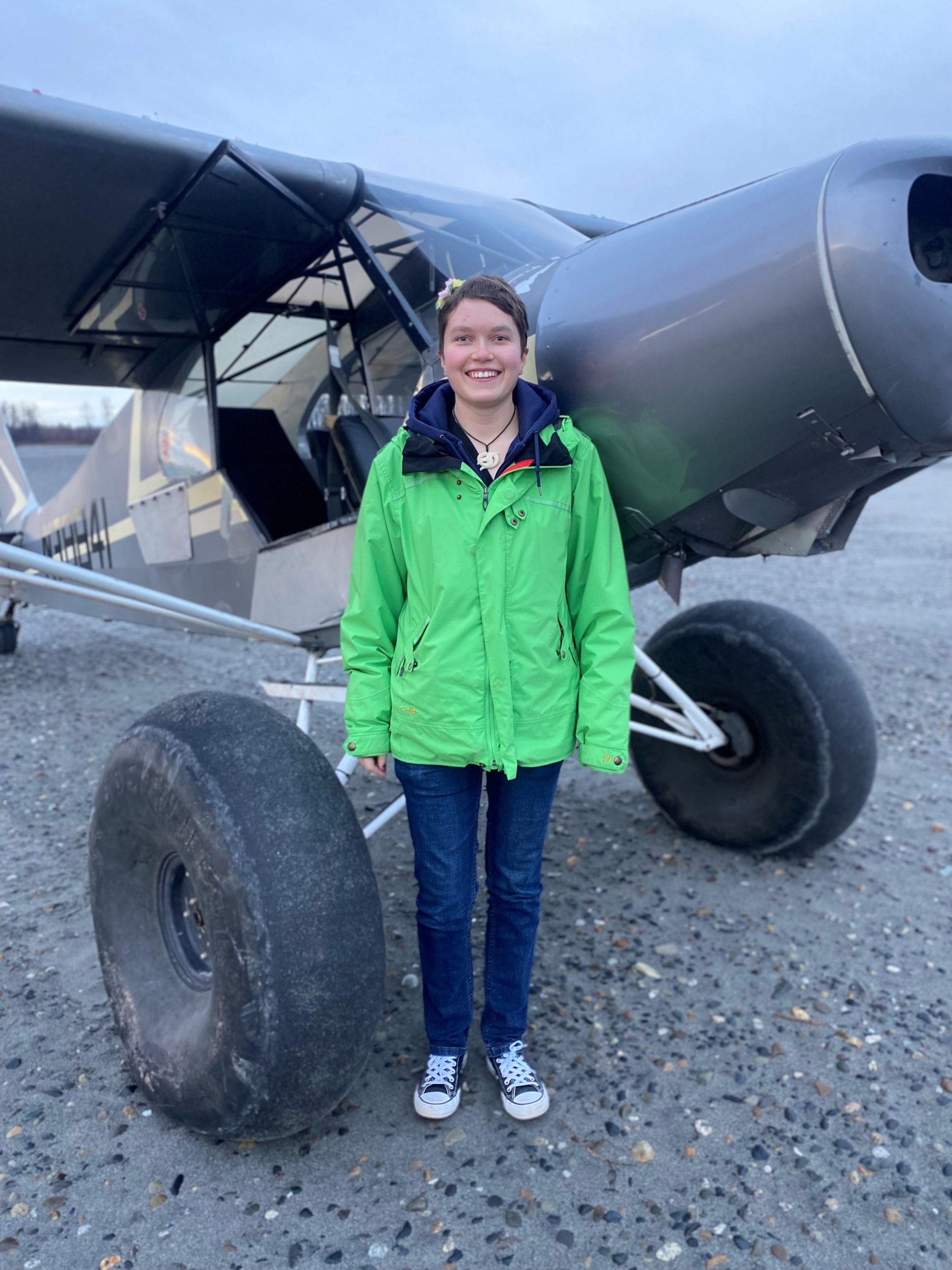 Hannah Kinder – Aviation Discovery Scholarship
This scholarship is helping me get my foot through the door of aviation. I'm excited for the opportunity to experience more time up in the sky and learn more about aircraft. I plan on scheduling flights with Blue River Aviation and hopefully pursuing my Private Pilot License.
for the scholarship, it has helped immensely!
Ibrahim Kromah – Aviation Discovery Scholarship
I used the scholarship to pay for my aviation headset and the FAA exam! I will use the remaining to pay for my private pilot check ride! I am beyond grateful and happy that I was amongst the lucky that were awarded funds for my education. I will continue to do my absolute best and become the best pilot I can be.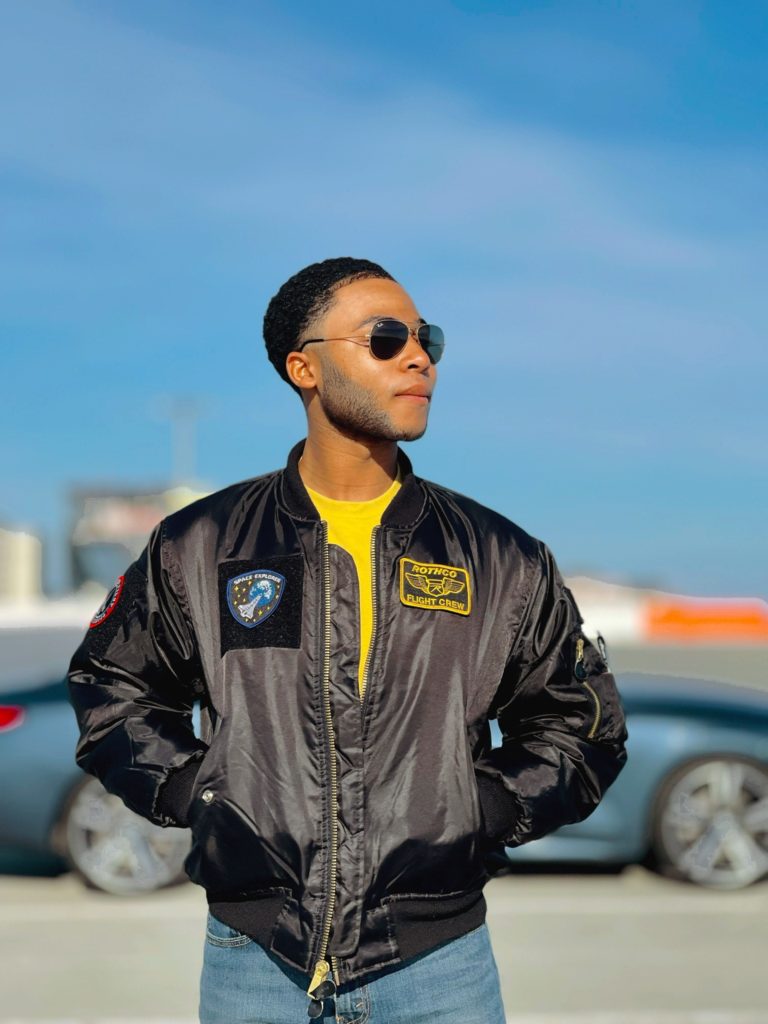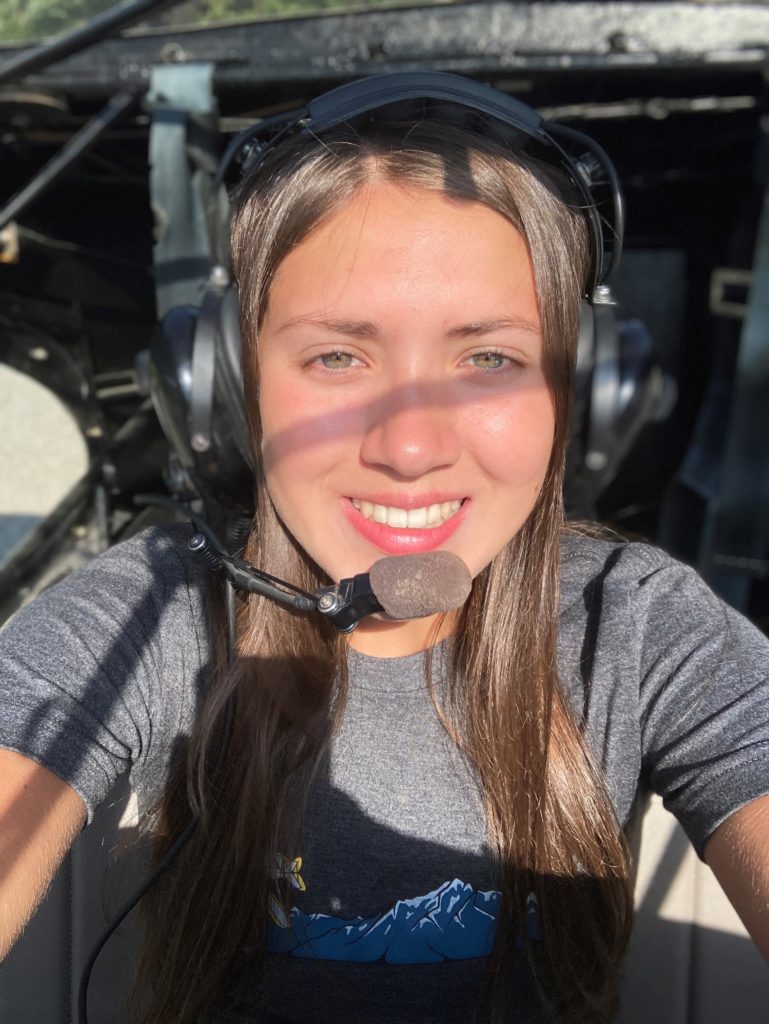 Winter Shaw– Aviation Discovery Scholarship
I just found a new CFI and started flight training. The scholarship funds gave me the opportunity to find a top-notch CFI. I am on my way to getting my Private Pilot License and eventually flying aerobatics, hopefully!
Aaron Edwards
Bob Reeve Aviation Management Scholarship
Aras Sirvelis
Don & Carol Bedford Memorial Scholarship
Hannah Corral
F. Atlee Dodge Maintenance Scholarship
Nicholas Zito
John P. Culhane Scholarship
Samuel Dobson
Bob Ellis Scholarship
Tyler Berg
LakeHood Pilots Association Scholarship
Tyler Kukowski
Christian D. Bohrer Scholarship
Victoria Austin
Joe Stancil Jr. Scholarship
Ashley FitzSimmons
F. Atlee Dodge Maintenance Scholarship
McKenna Mitchell
John P. Culhane Professional Pilot Scholarship
Leo Hicker
Joe Stancil Jr. Flight Training Scholarship
Abram Leigh
Bob Ellis Memorial Scholarship
Shiann Nanalook
Alaska Airmen's Award
Rachel Richardson
Bob Reeve Aviation Management Scholarship
Emma Apitzsch
F. Atlee Dodge Maintenance Scholarship
Griffin Kellar
John P. Culhane Professional Pilot Scholarship
Hannah Markwood
Joe Stancil Jr. Flight Training Scholarship
Luc Rondeau
Bob Ellis Memorial Scholarship
Josh Blom
Alaska Airmen's Award