Letter from the Executive Director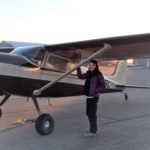 By Abby Austin, ED of the Alaska Airmen's Association
Greetings Airmen Members,
Typically, as I sit down to write my letter to you all, I am very focused on our three largest endeavors: the Aircraft Raffle Fundraiser, The Great Alaska Aviation Gathering, and Scholarships. Those projects are huge parts of the job and always have at least a portion of my attention, but the summer is a special time of year for us at the Airmen Association because we get to focus on new things. While the weather hasn't felt much like summer, it hasn't stopped us from our seasonal routine of developing projects outside of the big three. Maybe you have wondered what the Airmen Association works on when they are not planning the Gathering, selling raffle tickets, or soliciting donations for scholarships? We have three areas of focus we use to guide us as we develop and organize our next undertakings: Advocacy, Community, and Workforce Development.
Advocacy: Make sure you check out Adam White's Advocacy update in this issue. Learn how the Airmen have been involved in the recent FAA reauthorization and why it might matter more than you think. Adam has also been working with US Customs on the issues created by a lack of available and willing agents to facilitate border crossings. We are also working on some new platforms to share these types of issues with you so you can stay informed, give input, and add your voice as we advocate for GA in Alaska. A quarterly podcast will be coming soon and some new website components, as well.
Community: A major component of community, especially this time of year, are the events throughout the state that provide an opportunity for the Alaskan aviation family to get together. The Great Gathering is a fantastic kickoff to the event season, so of course I must mention it. I want to extend a heartfelt thank you for the incredible support that the members, volunteers, and the City of Palmer have shown us during the event. The dedication and enthusiasm displayed by each contributor made it a truly memorable experience for our community and an amazing celebration of GA in AK. Then, the next weekend in Valdez, we enjoyed some fantastic camaraderie over free pancakes for members in the Airmen booth and I was able to take on a more active role as a volunteer for the event and really enjoyed the opportunity to get my hands dirty behind the scenes! Be sure to check out some highlights of both events in this issue and share your pictures and favorite moments with us on social media.
But these two well-known events are hardly the only opportunity for community building in aviation! Every year, we see new events and the growth of existing events and it's a component of our mission to support them whenever possible. This year we are proud to sponsor the Soldotna, Skwentna, and Seldovia fly-ins and Fairbanks Aviation Day also made its triumphant return! There are so many others we hope to be able to support next year, as well. There's the beloved Kenai Air Fair, the new-ish Gravel Bar'becue that is picking up steam, and a group in Juneau has reached out in the hopes of developing an event in the Southeast. We love to see safe and entertaining events succeed in local communities and will do our best to support them in every way that we are able. You can do the same by getting out there to share in the camaraderie. Even our recent member BBQ at the Lake Hood office where we stood in the rain and talked airplanes over hotdogs was such a treat and a great excuse to swap stories and get to know each other. So thanks to all that are joining in to help strengthen our community by planning events or simply showing up to chow down on the dogs!
Workforce Development: We are all aware of the risk the industry faces in the near future from a lack of qualified labor across the board from pilots and mechanics to air traffic controllers, dispatchers, and everything in between. The Airmen Association has several projects in the works this summer to both spark a love of aviation in children and support them in their training as they become young adults. Our third annual Youth Aviation Day is coming up on 8/12. It's a free event hosted at the UAA Aviation Technology Center where we target kids aged 8-12 to get them interested in all things aviation. The local chapter of EAA joins us by offering their Young Eagle Discovery flights on the same day. We also hope to be ready to share a new initiative by the end of the summer that would provide free or heavily subsidized online ground school and guided study sessions to people all over the state of Alaska to get them started on their pilot training journey. Stay tuned for more details! These are just two examples of the social events, educational seminars, and networking opportunities we are working on to do what we can to develop our future workforce in Alaskan aviation. Check out our Events page on alaskaairmen.org or social media channels to stay informed. Also, please consider sharing your expertise through volunteering or making a connection with a place of business that might want to host an event!
So even with this year's Gathering, scholarship season, and raffle in the rear-view mirror, we are hard at work to support GA in AK! I hope to see you out and about this summer, rain or shine, and I hope you get a chance to get involved in the community. Participate, volunteer, collaborate and fly!
Abby Austin
Executive Director