TOP GUN: MAVERICK | AVIATOR EXCLUSIVE SHOWING | Homer, AK Pilot Fly-In
May 18, 2022 12:00PM—3:30PM
Location
Homer Theatre 106 West Pioneer Avenue Homer, AK 99603
Cost $12
Categories Fly-Ins
Event by Angle of Attack
Do you feel the need? The need… for speed?
We all know that the original Top Gun movie was an inspiration and a darn good aviation movie. Has there been any better movie ever made for aviators? Well, the new Top Gun: Maverick is finally going to be released after a long delay. Tom Cruise called this movie a "Love letter to aviation". An aviator himself, that's saying something.
We're holding a fly-in to Homer, Alaska (PAHO) and renting out the local theatre. Pilots from all over (including yourself?) will be flying into the Homer Airport and gathering at our local Homer Theatre on the Saturday of Memorial Day Weekend.
It's gonna be rowdy, fun, just for aviators (and their flight crew AKA family and friends), and a heck of a good time!
You'll be there, right?
Or have you…
"Lost that Looooovin' Feeelin'"?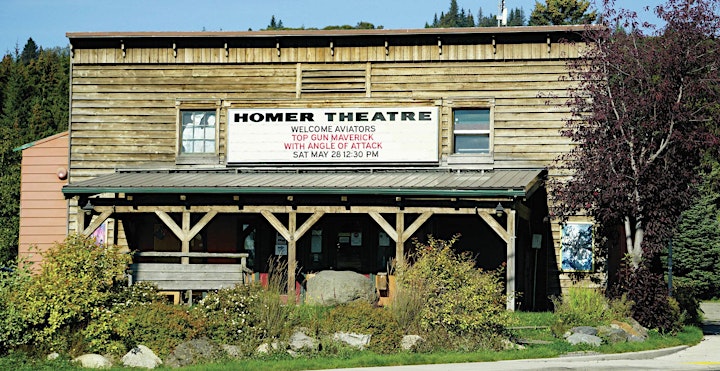 Here are some of the details:
This is an exclusive showing for aviators (and family/friends)
We are doing RSVP and having you pay ahead of time
Occupancy is limited to 200 attendees
The Theatre must do this because of licensing rules
Our theatre has fantastic concessions and food at affordable prices
We are working on getting giveaways
There will be a preshow where we may play trivia, and do the giveaways
Getting here:
Transient Parking at the airport is on the south side of the runway, against the grass
Homer has a bunch of taxi companies. Make sure to carpool!
The gate code is 425 to get back in the airport
More details are forthcoming. We suggest eating at the theatre, or any of our great restaurants here in Homer beforehand. Your ticket price will hopefully include some door prizes (we're still working on getting those!), changes to win fun giveaways before the show, and so much more.
As if you didn't need another reason to fly!
So come on down to Homer, celebrate Memorial Day in an awesome aviation way, and start summer with a bang.
Let's kick the tires and light the fires!