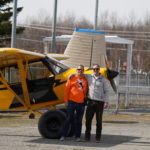 By Stephen Ratcliff
Greetings Airmen's Members,
I hope that you all had a nice summer and settling into the start of fall. For most of us, it was a pretty wet
and windy summer here in Anchorage, but we were fortunate to get some great flying when weather
cooperated. With fishing and hunting season starting to wind down, we're turning our attention back to
the normal routine of life and planning out the next year for the Alaska Airmen's Association with our
upcoming board retreat.
To start, we have three board members who will complete their terms as board members. Kevin
Campbell, Doug Bradbury, and Nick Kellar are owed a special gratitude for the commitment they've made
to the Airmen's. We are in a better place because of their imprint on the Alaska Airmen's Association.
Over the last 6 years, they have all worked with purpose to grow membership, build and develop the
scholarship program, and cultivate and enhance Next Gen for the future of the Airmen's. Big shoes to fill,
to say the least, but they will remain Airmen's members and friends for life.
Ground School, by all accounts, the ground school we put on had a great turn-out and was well attended.
If you are learning to fly or just wanting to knock off some rust, I would encourage you to participate in
the ground school. From people I spoke with, they really enjoyed it. Stay tuned for the next opportunity
and try to attend.
Next, we are continuing to work on raising capital towards scholarships. We were able to work with a few
corporate sponsors and get them involved to support several scholarships. Thank you to those that
stepped up! If you own or work for a company, I would really encourage you to look at making a corporate
donation towards sponsoring a scholarship.
Last, as we approach the end of the year, be on the lookout for the Airmen's Christmas party. This is
always a fun event. I hope to see our members and friends stop by to say hello and celebrate with us.

Fly safe,
Stephen Ratcliff
President
Alaska Airmen's Association