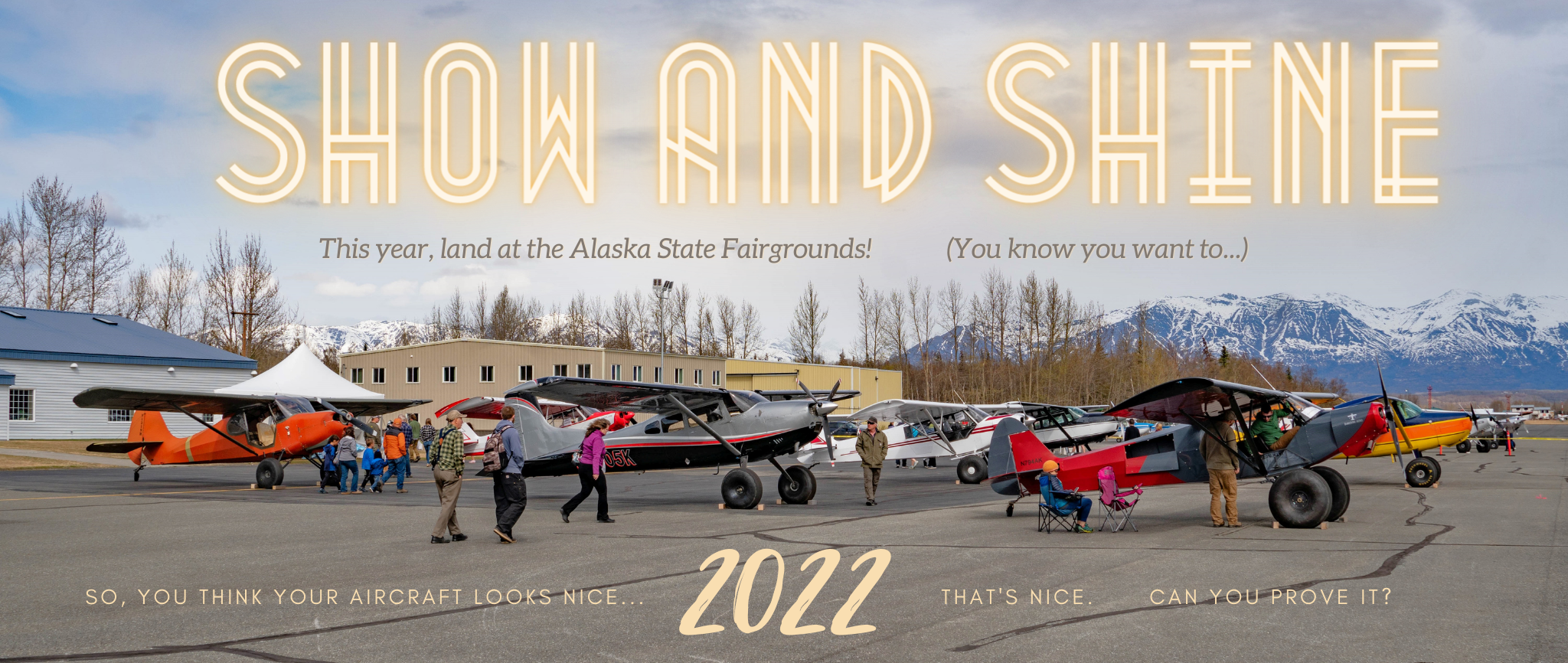 Show & Shine Registration is closed for 2022! Come vote for this year's contestants on 5/7/22!
Free to enter! Win prizes!
GRAND PRIZE: $1,000 Avgas
Redeemable at Hinchinbrook Aerofuel in Palmer, AK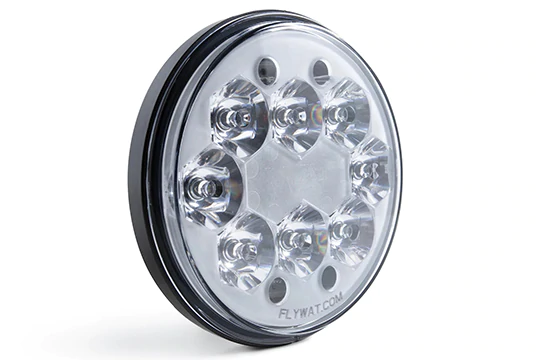 Whelen: 2, G3 LED Landing Lights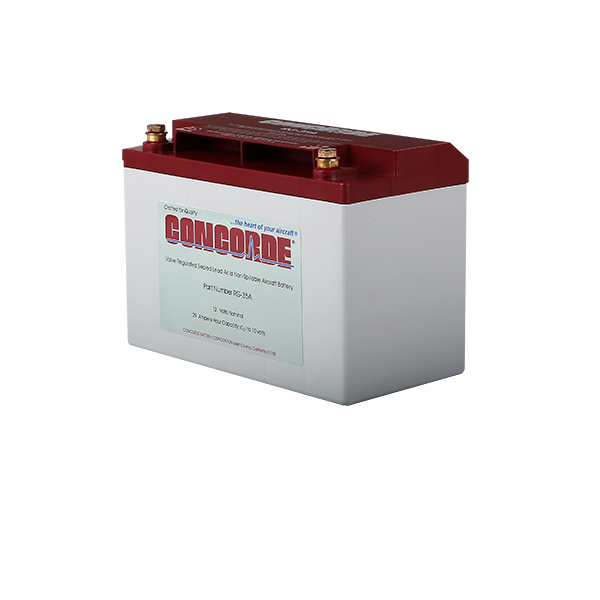 Concorde Battery: a battery and install kit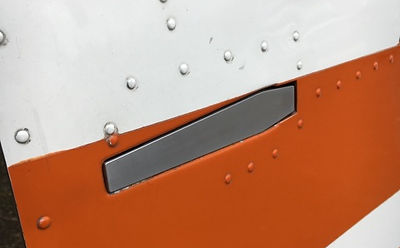 Airframe Innovations: 2 Cessna exterior door handles
Advanced Aero Tech: a Garmin Virb Ultra 30 cockpit camera
Advanced Aero Tech: Free IFR certification at the new Palmer Airport Location
Champion Aerospace: a set of spark plugs
Tanis Aircraft Products: an aircraft pre-heat system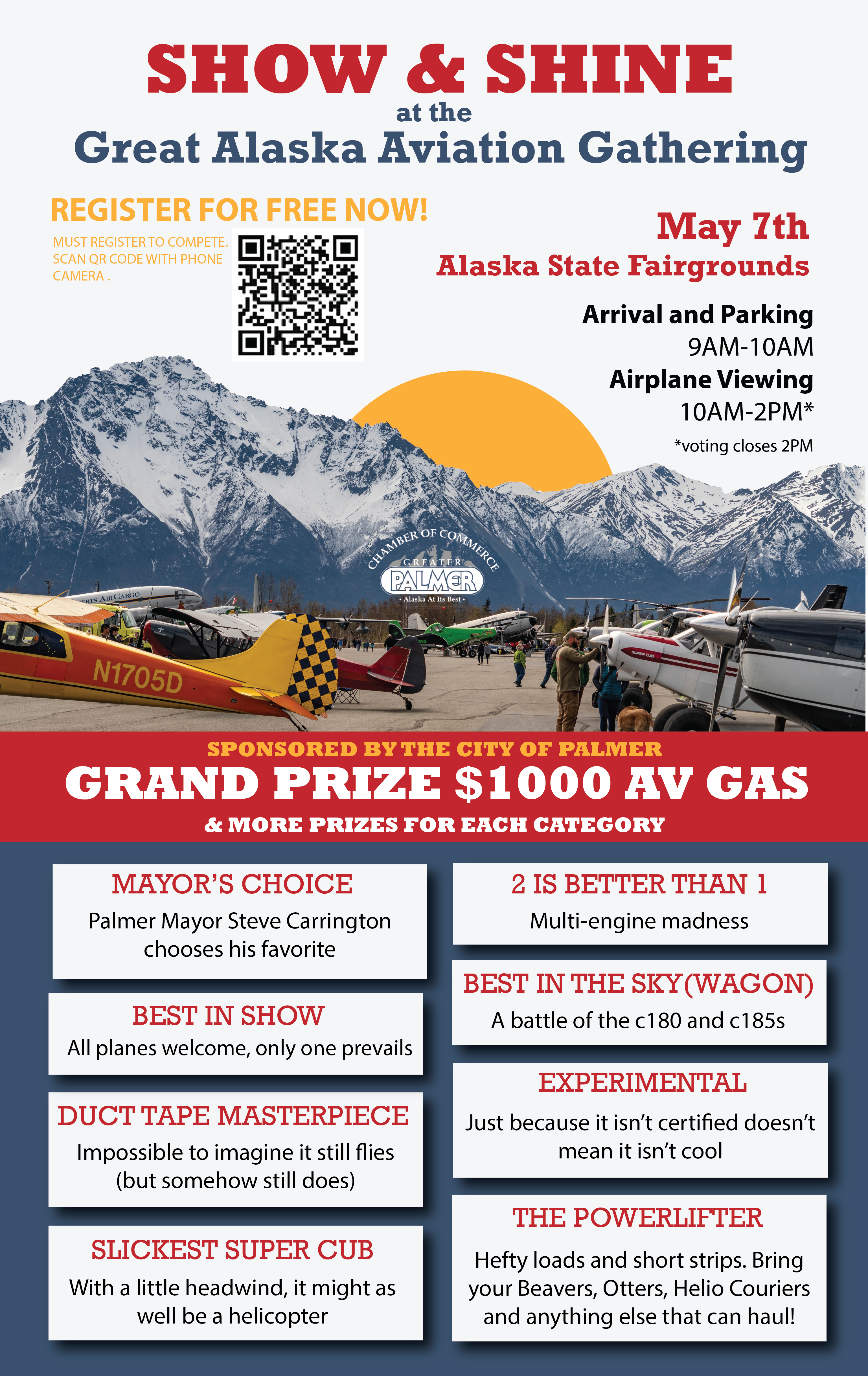 Show and Shine Information & Schedule
The Show and Shine will take place on Saturday, May 7th from 9 am to 5 pm at the Alaska State Fairgrounds.
9-10 am

: aircraft arrive

10 am-2 pm

: aircraft viewing and voting

4 pm

: award ceremony

After the award ceremony ends and patrons vacate the fairgrounds

: aircraft are permitted to depart. The Gathering ends for the day at 5 pm; patrons often linger, so plan to take your time getting out.

If you need to depart prior to 5 pm, you can notify the Air Boss and arrange to have your aircraft towed or pushed through the gate.

Propellors must remain still while patrons attend the event.
Aircraft must remain tied down throughout the event.
Bring your own tie-down ropes and chocks. Anchors will be provided. Steak or screw-type anchors are not-authorized on the fairgrounds due to shallowly-buried electrical wires.
Landing at the fairgrounds
Fairgrounds flight operations take place within Palmer-controlled airspace during the hours of 8 am to 6 pm Friday the 6th through Sunday the 8th.
The Alaska State Fairgrounds are private property, and prior permission from the Alaska Airmen's Association is required to land.
Must be registered to participate and land at the fairgrounds.
Participate in a safety briefing and sign a liability waiver (required).
You'll be given the Air Boss frequency for landing and parking instructions.
Landing surface: 1,700-foot gravel, unapproved landing surface
Land at your own risk
Aircraft must be able to taxi through a 60-foot-wide gate