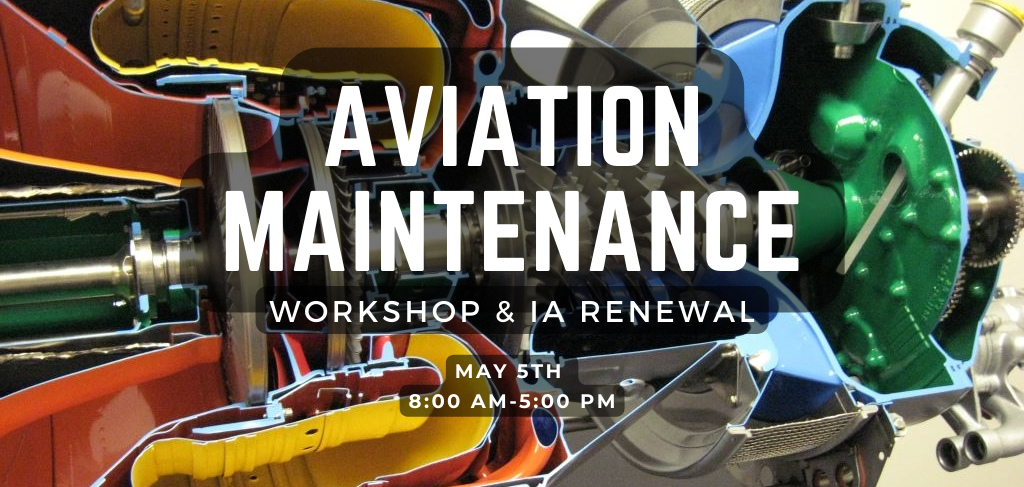 Free aviation maintenance workshop and IA renewal for aircraft owners and professional mechanics
Great Alaska Aviation Gathering
Workshop Schedule
All sessions are eligible for:
credit toward an Aviation Maintenance Technician (AMT) program

Aviation Maintenance Technicians may earn AMT awards program credits for each seminar hour attended. To obtain credit, sign-in on the sheets circulated in each workshop or seminar and record your registration number.

credit toward IA renewal.

IA's attending will earn credits toward the renewal of their certificate for all seminars and workshops
May 5th, 2023 in Hoskins Hall
8 am - 8:50 am: Choosing a Fabric Covering System | Bernie Willis of Stewart Systems
Description: Stewart Systems is setting the standard for aircraft fabric covering and painting technology for the 21st century.  Learn about the current aircraft covering systems available on the market and how to choose the right fit for your project.
9 am - 9:50 am: Aircraft Tire Care and Maintenance | Mary Beth Widak of Goodyear Aviation
Description: General Aviation owners and pilots fly with the leader because Goodyear has the industry's longest history for engineering innovation and reliability and the broadest range of products and applications. Goodyear looks to the future...to the next 100 years of aviation innovations, leading the way with new and exciting tire advances.
10 am - 10:50 am: Marvel Schebler & RSA Fuel Injection | Alan Jesmer of Tempest Aero
Description: Discuss maintaining and troubleshooting of carbureted and injected fuel systems. Tempest Aero Group is proud to be a leading general aviation company supporting a portfolio of independent brands known for manufacturing high-quality ignition, filtration and pneumatic products, fuel systems and components, instrumentation sensors and probes, fuel pumps and specialty tools for general aviation OEM and aftermarket companies.
11 am - 11:50 am: Lycoming Engines-Past, Present, and Future | Jeffrey Schans of Lycoming Engines
Description: Hear a brief history of Lycoming engines and how to take care of your Lycoming Engine. We have earned our reputation for reliability and durability with our extensive range of aircraft engines trusted by pilots, owners, and general aviation enthusiasts.
12 pm - 1 pm: Lunch Break (for dining independently)
1 pm - 1:50 pm: Fuels and Their Effects on Your System | Kurt Hartwig of Eagle Fuel Cells
Description: An overview of fuels past, present, and future and their effects on aircraft fuel system components. Kurt is an FAA licensed technician with over 40 years of fuel cell repair and installation experience. He has spoken for the FAA and PAMA at IA refreshers across the country for over 25 years.
2 pm - 2:50 pm: Installation, Repair, and Maintenance of Pneumatic De-Icers | Ken Heath of Collins Aerospace
Description: Goodrich pneumatic de-icers are extensively tested for high reliability and performance. Collins Aerospace is the manufacturer of Goodrich® pneumatic de-ice boots. Goodrich de-icing is the premier OEM provider with content on regional, business, general aviation and military aircraft platforms. Operators can fly with confidence knowing that Goodrich works with the OEM to ensure each de-icer is optimized for each aircraft.
3 pm - 3:50 pm: Aircraft Ignition Maintenance | Alan Woods of Champion Aerospace
Description: Over the past century, Champion Aerospace has earned a global reputation for high quality and performance-proven aviation solutions. Keystone products like Champion brand turbine engine exciters, leads, and igniters, and of course Champion brand piston engine spark plugs, filters, and Slick Magnetos and harnesses have been the drivers of Champion's success.
4 pm - 4:50 pm: Maintenance and Inspection of Standard and Tuned Exhaust Systems | Dan Tillman of Power Flow Systems
Description: A 50-minute technical presentation, covering Effective Corrosion Control using thin-film water displacement compounds.
How to Get There
Park in the Orange Parking lot.
Walk to Hoskins Hall, where the seminars and workshops take place.