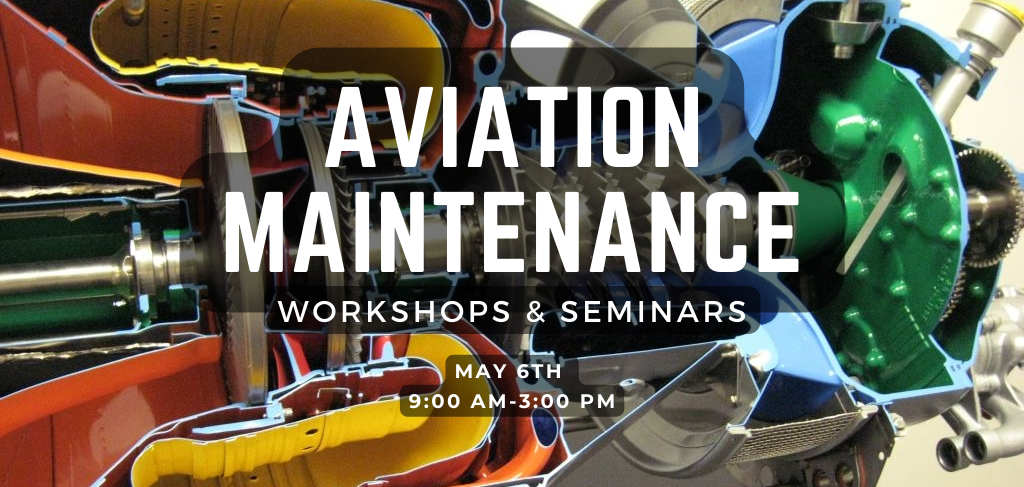 NEW!! Free, all-day aviation maintenance workshops and seminars for aircraft owners and professional mechanics
Are you an aircraft owner or a professional aircraft mechanic? Register today for FREE and join us at the Alaska State Fairgrounds for a curated selection of aviation maintenance seminars and workshops.
Seminars & Workshops
All workshops and seminars are eligible for:
credit toward an Aviation Maintenance Technician (AMT) program

Aviation Maintenance Technicians may earn AMT awards program credits for each seminar hour attended. To obtain credit, sign-in on the sheets circulated in each workshop or seminar and record your registration number.

credit toward IA renewal.

IA's attending will earn credits toward the renewal of their certificate for all seminars and workshops
May 6th
9 am - 9:50 am: Aircraft Preconditioning/Preheating with Installation and Servicing Tips | Doug Evink of Tanis Aircraft Products
Description: For cold weather operations, engine preheat is always required. Learn best practices for preconditioning your aircraft to protect your engine in all weather conditions.
10 am - 11:50 am: PT6 Update | Robert Steel and Francis Marotte of Pratt & Whitney Canada
Description: Listen to a detailed update on the PT6 engine. Rob Steel is the Pratt & Whitney Canada Field Support Manager for the states of Alaska, Hawaii, Washington, and British Columbia, Canada. He has 32 years of experience with Pratt & Whitney Canada and started his career in experimental & engine testing. Francis Marotte is the Service Engineering Manager for Pratt & Whitney Canada supporting the PT6A-114/A and PT6A-140 fleet worldwide. He has 17 years of experience with P&WC in Transmission Design and Service Engineering.
12 pm - 12:50 pm: Weight and Balance Presentation | John Pratt of Pratt Aviation Services
Description: This presentation will discuss aircraft weight and balance, the procedures for weighing an aircraft, and documenting the results. It will also include a discussion on control surface balancing.
1 pm - 1:50 pm: Spark Plug Design and Maintenance | Vince Bechtel of Tempest Aero Group
Description: This presentation will include an in-depth discussion of spark plug maintenance including proper gapping, cleaning, and troubleshooting.
2 pm - 2:50 pm: Corrosion Prevention | Mark Pearson of Lear Chemical Research Corporation
Description: A 50-minute technical presentation, covering Effective Corrosion Control using thin-film water displacement compounds.
How to Get There
Park in the Orange Parking lot.
Walk to Hoskins Hall, where the seminars and workshops take place.