To Our Members:
To post a classified ad, please send your drafted ad to info@alaskaairmen.org
Dave Glenn
Latitude 67 Laser Engraving - engrave, etch, instrument
Laser engraved instrument panels, placards, labels. Call for quote.
Expires: 12/31/20
Gale Glenn; 907-355-6924
glenn@lat67.com
______________________________________________
Jonathan Whitehead
2010 PiperSport LSA - Pipersport LSA
2010 PiperSport LSA for Sale. 1020 TT on Airframe, Engine, and Prop. Rotax 912ULS, 3 Blade Ground Adjustable Prop. Dual Dynon Displays. Garmin 796, Dynon Autopilot. Burns 5gph in Cruise. Takeoff and land in about 300'. No Damage History, No ADS-B. 77,000 USD. Currently located at SFF
Expires: 12/15/20
Jonathan; 509-306-9610
jonathan@sdaviationsales.com
_____________________________________________
Mark Hanten
1973 Cessna 182P - Cessna 182 Float Plane
Penn Yen Aero Factory Remanufactured O470-R - approximately 650 SMOH Seaplanes West Float Kit Sportsman's STOL Kit Micro VGs Hartzell 3 bladed prop Sealand Aviation Jump Door Rear Jump Seats Extended Baggage Compartment Auto Fuel STC Airglas 206 Nose Fork 700-6 tires all around Whelen LED Strobes and Position Lights Whelen LED Beacon Whelen LED Landing and Taxi Lights BAS Four Point Shoulder Harnesses Aerocet 3500L Floats Avionics Aspen Evolution 2500 glass cockpit (3 panels) w/ synthetic vision and angle of attack indicator S-Tec 50 Auto Pilot JPI EDM-830 Engine Analyzer EI SC 5 Super Clock Guardian Avionics Aero 452 CO2 Detector Garmin 430 WAS Garmin 696 w/ panel-dock Garmin SL30 nav/com Lynx Ngt-9000 Transponder (Ads-b in/out) Great float plane and wheel plane. $185,000
Expires: 11/30/2020
Mark Hanten; 619-818-5611
hantenmark@gmail.com
_______________________________________________
Charlie  Evans
1989 Wipline 4000 Amphibious Floats - Airplane Parts
1989 Wipeline Amphibious Floats; removed from a 1973 U206F, includes all hydraulic parts and a Lake & Air gear advisory system, recent brake  rotors, pads and tires. 29,000
Expires: 11/26/2020
Charlie Evans; 603-930-7911
treetopair@gmail.com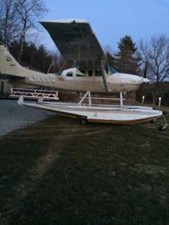 _______________________________________________
Dean Eichholz
1966 Cessna 180H For Sale
1966 Cessna 180H for sale - have owned this aircraft since 1988 & it has been well cared for. 8700 TT - 603 hrs on factory reman O-470-R Robertson STOL - P Ponk gear kit - Factory float kit - 8.50 x 6 tires - bubble windows ADSB with Garmin Aera 660 GPS installed in 2018 -Terra 240D audio panel - Twin KX155 nav/coms New paint, leather seats, windshield and Selkirk panels in 2006 ........... $130,000
Expires: 11/30/2020
Patti; 907-262-3872 or 907-398-1539
AKFLY@ALASKA.NET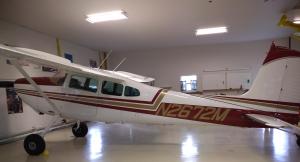 Carol Zerbe
FAA Designated Pilot Examiner Carol Zerbe -DPE pilot checkride practical test
Private, Commercial, Instrument single engine land or single engine sea checkrides. Based at Lake Hood but will travel to your location. See northboundflying.com for more information.
Expires: 08/23/2021
Carol Zerbe
northboundak@gmail.com
_______________________________________________
Leslie Dietz
North Star - Aircraft Maintenance - Aircraft Maintenance, A&P, IA, Aircraft Mechanic
North Star provides A&P/IA services at the Wasilla Municipal Airport. We perform inspections and maintenance. Our staff members have an extensive background in all levels of aircraft maintenance from Cessna 150s to Boeing 747s. We are equipped to work light to heavy maintenance on piston singles through medium turbines. Winter aircraft storage available! Keep your aircraft inside a heated hangar this winter. Find us online at https://nstarmaintenance.com/
Expires: 01/01/2021
Leslie Dietz; (907) 671-4848
leslie.dietz@nstarmaintenance.com
Dave Cruz
T-Hangars at Palmer Airport - Hangars
Location Palmer, Alaska
Price$128,775
New condo hangars. There are only 6 available. Palmer airport is situated in the beautiful Matanuska Valley with many amenities within walking distance. You will see below that this is a full service airport. Please call with any questions.
Size 1052 SF
Hangars located on TW J, leading to TW B
Schweiss Bifold Strap Door 12' x 41.5'
Private man door
Natural gas heat
Common space restroom
Features of the Airport Include:
• Palmer Airport has developed a security plan along with Airport Watch
• 6008 LF main runway (16/34) with non-precision circling GPS IFR approach,
• Pavement Classification Number: PCN ( 34/F/B/X/U
• 3617 LF cross wind runway (10/28) non-precision GPS IFR approach, Pavement
• Classification Number: PCN ( 7/F/B/X/U
• 1560 LF gravel runway (16/34)
• Lighted Helipad with parking
• Small aircraft transient parking (Apron A) and Large aircraft parking (South Apron) available for day use and overnight parking
• 24 hour fuel availability on the north and south ramp and fuel delivery and ground support with prior arrangements
• Aircraft parts store with on field maintenance available
• ALL SERVICES AVAILABLE
Expires: 11/30/2020
Karen; (907) 232-5315
karenmc@alaska.net