To Our Members:
To post a classified ad, please send your drafted ad to info@alaskaairmen.org
Dave Glenn
Latitude 67 Laser Engraving - engrave, etch, instrument
Laser engraved instrument panels, placards, labels. Call for quote.
Expires: 12/31/20
Gale Glenn; 907-355-6924
glenn@lat67.com
______________________________________________
Carol Zerbe
FAA Designated Pilot Examiner Carol Zerbe -DPE pilot checkride practical test
Private, Commercial, Instrument single engine land or single engine sea checkrides. Based at Lake Hood but will travel to your location. See northboundflying.com for more information.
Expires: 08/23/2021
Carol Zerbe
northboundak@gmail.com
_______________________________________________
Leslie Dietz
North Star - Aircraft Maintenance - Aircraft Maintenance, A&P, IA, Aircraft Mechanic
North Star provides A&P/IA services at the Wasilla Municipal Airport. We perform inspections and maintenance. Our staff members have an extensive background in all levels of aircraft maintenance from Cessna 150s to Boeing 747s. We are equipped to work light to heavy maintenance on piston singles through medium turbines. Winter aircraft storage available! Keep your aircraft inside a heated hangar this winter. Find us online at https://nstarmaintenance.com/
Expires: 01/01/2021
Leslie Dietz; (907) 671-4848
leslie.dietz@nstarmaintenance.com
Klaus Steigler
Cabin, on 30 acres, private runway 1500 ft., mountain views - private runway
Great 2-story cabin, mountain views, 2 bedrooms, one full bath, 2 garages, one garage is 672 sq.ft. the other is 800 sq.ft. that one has a 40 ft. conex on each side for storage, private driveway is suitable as a runway for small aircraft, well & septic, MEA electric power, all this on 30 private acres with no restrictions, off the Parks Hwy. at mile 114.1, close to Trapper Creek Library, call Klaus at 907-354-5553, www.talkeetnarealestate.net
Expires: 12/30/2020
Klaus Steigler, Broker, Talkeetna R.E.
907-354-5553
klaus2@mtaonline.net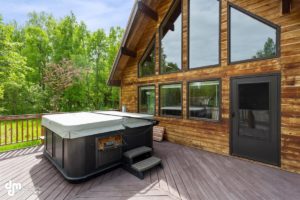 _______________________________________________
Barbara Doty
Commercial Hangar 71x70x18 for Sale - Wolf Lake Airport 6175 E Beechcraft Cir Wasilla Alaska - real estate hangar aircraft commercial
Building Description / Amenities:
71' x 70' x 18' Single Bay Hangar = approx. 4,970 sq ft with 200 sq ft additions
Total square footage = 5,172
Design plan available for 2-story office / living addition – 20 x 50 sq ft per floor (total 2,000 sq ft)
Bathroom Addition
20' x 9' Bathroom addition completed in 2017
Includes shower, sink, toilet, and hook-up for washer/dryer
70' x 16' HiFold Door (new motor) and 12' x 12' overhead door
External mechanical room
In-floor heat and boiler – continuous heat since original construction.
220v and 110v outlets
Plumbed for pressurized air
MTA internet
Security system
Lot Description / Amenities:
Septic (1,500 gal AdvanTex septic system)
Well
71' x 30' Asphalt Apron, Tie-down space adjacent to apron
Adjacent to gravel-maintained taxiway
Gravel driveway with large parking area
Commercial Use Approved
0.96 Acres
Wolf Lake Airport access – airport use fees approx. $1,300 per year
Taxes approx. $5,800 per year
Enstar Natural Gas – approximately $200 / month
Matanuska Electric – approximately $120 / month
New construction cost for typical hangar - estimated $568,920 ($110/sq ft x 5,172 sq ft) + $90,000 for land = $658,920
Price $529,000 (Five Hundred Twenty-Nine Thousand Dollars)
Expires: 12/30/2020
NorthFork (Aspen Sanders)
907-746-1880
aspen@steppersak.com
_______________________________________________
Guy Turner
Eagles Roost Airpark - Real Estate
Eagles Roost Airpark.  4 - 16 acre private airpark lots in Wasilla.  Gated airpark with underground power, natural gas and fiber optics.  2000' turf runway, paved roads with controlled gated access.  Only 12 lots total In this large parcel development. One lot has lake frontage and all are on the runway.  $134,000- $165,000.  For more information email Fishhunt@mtaonline.net
Expires: 12/30/2020
Guy Turner; Fishhunt@mtaonline.net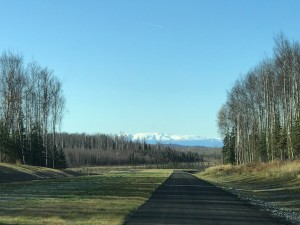 _______________________________________________
Tammy Ervin
Scott Lake Wasilla Large Home and Shop/Hangar
Pilots rejoice - your float plane home awaits! Scott Lake access as well as airstrip access on FAA 9AK6. Home is 4500sf, all infloor heat, 4 bed 4 bath, with additional bath in the 1936sf shop. Upper level is handicap accessible with no steps to entry, walk-in jetted tub, accessible showers, hard surface flooring throughout. Vaulted ceiling with amazing south facing view of Scott Lake & mountains.
Well thought out kitchen with custom cabinetry, built in desk, pantry cabinets, prep island with sink and recirculating pump for constant hot water. Lower level can be MIL with walk-out basement access. All space in this basement is large - 12' ceilings, huge family/living room, big bedrooms, several storage areas, and multi-purpose room (perfect for media room). Kitchen and baths have solid surface counter tops, hickory cabinetry, LVP flooring throughout, all completed within the last year.
Garage is oversized 2-car, 676sf, infloor heat. Shop is 1936sf, in-floor heat, work bench, shelving, full bath and kitchen. Two garage doors, buyer can explore possible hangar door. Leisurewood airstrip is available for subdivision use, must join airstrip HOA. Offered by Remax Dynamic of the Valley MLS 20-10423
Expires: 12/30/2020
Tammy Ervin - 907-355-7600
tammyervin@gmail.com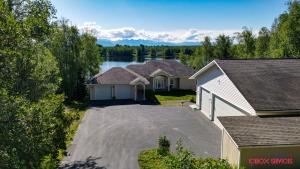 _______________________________________________
Tammy Ervin
Tidewater Landing in Wasilla 50x50 Hangar & 2920sf house with 2+ car garage on 2.28 acres
Well-built and barely lived in beautiful home in Tidewater Landings. 2929sf house, 2500sf hangar. 3-bed 3-bath home has long list of upgrades: in-floor heat, open concept floor plan, 2 master suites, high vaulted ceilings & windows, soapstone woodstove, arctic entry, tile floors, large master suite with access to covered back porch, HRV, alarm system, 2-car over-sized attached garage.
Nicely maintained yard, circular driveway. 50x50 hangar with full bath, in-floor heat, powerlift hydraulic hangar door. Both house and hangar have cedar lap siding on the front, Hardiplank on sides/back and long-lasting metal standing seam roofing.
Home is handicap accessible with no stairs on main floor, 3-0 doors, mono-slab foundation.
1700' turf airstrip, FAA identifier 77AK. Maintained by airstrip HOA. Offered by Remax Dynamic of the Valley MLS 20-10933
Expires: 12/30/2020
Tammy Ervin - 907-355-7600
tammyervin@gmail.com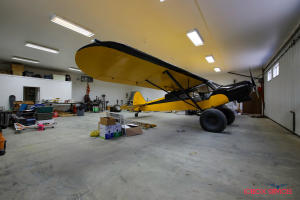 ______________________________________________
Tristan Smith
Wolf Lake Airport - Airport
Amazing airport property with direct taxi way access and easy drive with access to Wolf Lake nearby. Septic, well, gravel pad, power all ready to go! Runway maintenance fees paid up until July of 2021. Don't miss this gorgeous property.
Expires: 01/31/2020
Tristan Smith - 907-707-9464
tristansellshomesak@gmail.com
_________________________________________