Updates from the Executive Director
Greetings Airmen Association Members,
Despite the dreadful weather, hopefully the summer was full of fish on the line, visits to the cabin, successful harvests, and hours penciled into the logbook. With the tourist season coming to an end and the snow creeping down the mountains, before long, a good many of us will be thinking about wrapping up our flying for the year. So when the hunting is done and the pumpkins are dropped, if you find yourself questioning how to stay connected to the aviation community you love, look no further than the Alaska Airmen Association!
The holidays will be here before you know it and, with them, the season of giving. This is the time of year at the Airmen Association when we begin planning all of the next year's events and programming and a big part of that process is fundraising. The Great Gathering is growing by leaps and bounds but, as always, it remains free and open to the public. We topped $100,000 given away in scholarships last year and want to maintain that momentum. Our NextGen membership doubled in size with more training and career outreach events offered than ever before. If these are things that you believe are important in the fight to protect and preserve General Aviation in Alaska, then you can support them by giving.
What does giving look like within the Alaska Airmen Association? It can be as simple as purchasing a raffle ticket. Tickets go on sale October 17th and this year's airplane is amazing! As usual, there are a ton of other great prizes up for grabs too. The Aircraft Raffle is the Association's primary fundraiser and every ticket you purchase helps support the local aviation community. So, buy for yourself and get into the giving spirit by buying for friends and family!
Other ways to give include donating directly to the scholarship fund. Any dollar amount is welcome and helps us fund the training goals of our applicants. All donations are tax deductible, and the Airmen Association is eligible for qualified charitable distributions from retirement accounts. You can even give by attending one of our holiday parties and participating in fundraising games and auctions!
On the topic of holiday parties, the season of getting together is also upon us! There are several reasons to stop by the Association office soon and do just that. We are continuing to improve our Member Lounge where we encourage meeting, studying, or just good old airplane watching. We have improved our coffee and snack bar and added some new lounge furniture. And, as always, the NextGen Flight Simulator is available. Come by and give us your feedback on how the space can be better put to use for you. While you're here, check out the final touches recently made to our Honor Wall recognizing all of the members and community supporters that helped build your beautiful Airmen lodge.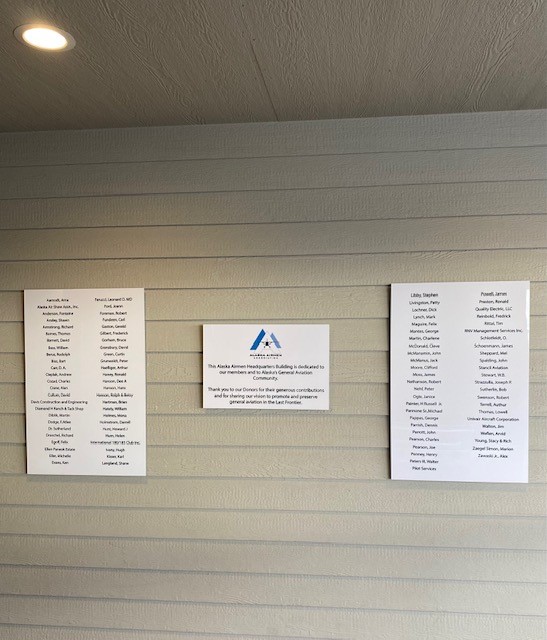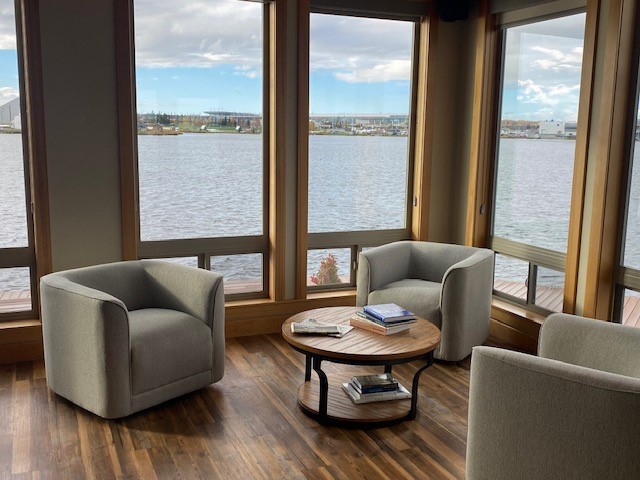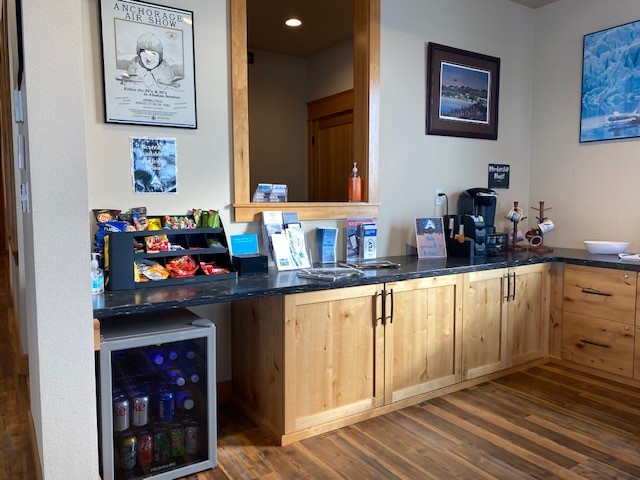 Lastly, come in to meet new staff members Bryce and Regan! Bryce is an instrument rated Private Pilot hoping to share his passion with the Association while he continues his flight training and Regan is an aspiring photojournalist excited to help grow the offerings of aviation and community content available to our members. Both are looking forward to meeting all of you and learning how they can help support our mission.
So wherever your flying does or doesn't take you this upcoming season, think about the giving and the getting together you can do with the Alaska Airmen to help Support GA in AK! See you all soon!
Abby Austin
Executive Director