The 2023 Raffle Aircraft finds its home in Fairbanks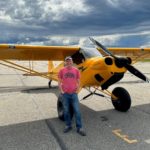 Earlier this month, the 2023 raffle plane found a new owner and home, in Fairbanks Alaska.
Jason Wilson was doing some shopping in Lowe's when he received a voicemail that he thought was surely spam. The garbled transcription on his iPhone said something about being a big winner…
He and his girlfriend had just enjoyed the day attending the Great Alaska Aviation Gathering as part of his birthday celebration tradition, as it often falls on the same weekend. Jason has been an Alaska Airmen member for a few years and regularly buys raffle tickets, but he thinks of them as his contribution to a good cause, never expecting he might win. Of course, they took a moment to check out this year's Carbon Cub FX-2 in the plaza at the Alaska State Fairgrounds during their visit, but he described his thoughts as "that's going to be a nice airplane for someone" and he didn't want to spend too much time "drooling over someone else's airplane." They spent the rest of the afternoon running errands in the area while in town from Fairbanks.
Then, only a short time after they had left the fairgrounds, the crowd in the plaza erupts in applause to learn this year's airplane will stay in Alaska with its new owner Jason Wilson. Jason describes feeling dazed and in shock after listening to the voicemail in the hardware aisles. He likened it to feeling like Charlie with his golden ticket to the Chocolate Factory and rushed out to the parking lot to share the news with his girlfriend and her daughter. They scoured social media and reached out to friends to see if the news could really be true. He soon connected with one of the Alaska Airmen Board Members and learned that he was, in fact, the new owner of N511PB, a gorgeously outfitted Carbon Cub with 31" Bushwheels, Trick Air Skis, and an incredible Garmin avionics package.
Jason is no stranger to Alaskan aviation. His father was in nuclear missile defense with the Air Force, so he grew up on bases around the country. When his dad was in high level meetings, security officers would let him ride in the back of their squad cars and explore the base. His love of aviation was sparked when he saw his first F-16 and it only grew from there. He was lucky enough to have an uncle in Alaska with a Cessna 180 that provided an opportunity to explore the state on floats and wheels and really set the hook of his aviation passion. His uncle would fly over from Chena Marina to the strip at Lakloey Air Park near Jason's home and pick him up to go adventuring.
Fighter pilot dreams didn't work out after a change in vision requirements, so Jason only came back to aviation in the last few years as his career progressed and aircraft ownership became a possibility. The same uncle he had flown with as a kid had sold his 180 and was flying an experimental Glasair Glastar. It seemed like a good fit for Jason, so he bought his own Glastar project and officially started his flight training. He plans to finish his Glastar and fly it as he gets comfortable in the FX-2. He is looking forward to some mountain flying training and learning to have a blast on those Trick Air Skis. Once comfortable in the FX, Lake Clark and Denali visits are on the top of his list.
The Airmen Association staff has had the pleasure to meet a lot of great people in the process of giving away the raffle plane each year, but it is a special treat to give one away to a member of the Airmen community. Jason is a strong believer in the Alaska Airmen mission and, particularly the Great Gathering. He attended in Anchorage for the first time in 2017 when he was planning for his Glastar project. He was amazed at the resources and connections he was able to make all under one roof in his own "backyard" and has tried to attend every year since. He is an active member and was kind enough to bring the airplane over to the Airmen Solstice BBQ at the Fairbanks airport campground to give everyone one last chance to drool over the beautiful Carbon Cub FX2. Thanks to nice weather, amazing people, and delicious pizza from East Ramp… everyone had a spectacular time in Fairbanks! Once again, congratulations Jason!