Notes from the Safety Committee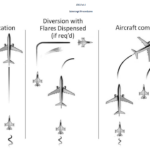 Note from the editor: The Alaska Airmen Association reconvened our Safety Committee, meeting monthly, to set goals and suggest initiatives to increase safety in aviation in Alaska. You can find more information on our active committees on our website at https://alaskaairmen.org/committees/ Please enjoy this quarterly column from the Safety Committee.
Recent events in the Anchorage bowl were a good reminder that as airmen and aviators we are all responsible for maintaining as much freedom in the skies as possible. If we are all not diligent in knowledge of current rules and procedures, this freedom will only deteriorate at an increasingly rapid rate.
This knowledge includes, at the very least, a preflight briefing with an inquiry into NOTAMs and any Temporary Flight Restrictions in the planned flight routing. A simple call to flight service will provide this (1-800 WXBRIEF) 1-800 992-7433 as well as numerous online options. It also includes the knowledge of the Aeronautical Information Manual and, specifically, Section 5-6-13 INTERCEPTION PROCEDURES. You may think it unlikely that these procedures will be relevant to you, but a large portion of being a proficient aviator is an understanding of procedures we hope to never have to use. It would be good for all of us to review those occasionally and monitor 121.5 if we have a spare radio available.
If we are unable to follow basic rules and procedures, it will most likely lead to loss of available airspace in the future. Let's all do our part to prevent this by spending some time with the AIM and regularly checking NOTAMs before every flight.
https://www.faa.gov/air_traffic/publications/atpubs/aim_html/chap5_section_6.html