NextGen Spotlight: Scholarship Winners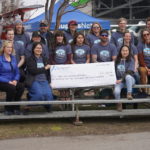 We are very proud to announce… our 2023 scholarship winners! The Alaska
Airmen's Association is deeply grateful for everyone's help that made this
possible. We also want to thank all applicants, attendees at the Great Alaska
Aviation Gathering and a very special thanks to Lieutenant Governor Nancy
Dahlstrom for being there and showing her support on behalf of the state of
Alaska!