Member Milestone / The Airmen go to Paradise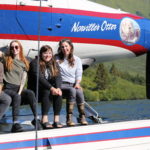 By Regan Tunstall
Have you gained a new rating or certificate? Purchased your first airplane or flown your 5000th hour?
Shout out a friend that has landed in a challenging new place or welded their first tube on a new project. Or
maybe you want to commiserate after shelling out for your first annual inspection. Whatever milestone you
have achieved, help us strengthen our community by sharing it here!
Email info@alaskaairmen.org to contribute.
This quarter, the Alaska Airmen staff experienced a milestone of their own. Please enjoy!

Towards the end of August, we had a last-minute adventure in store for us! One of our
amazing members took us out towards Seward in their Otter. My co-worker Truth and I had
never been on a float plane before this, and Abby had dreamed of riding in an Otter for a very
long time! So, to say we were all very thrilled would be an understatement.
Sometime around 10:30am on a lovely, sunny day, we hopped in the Otter and headed to our
unknown destination. About an hour filled with majestic mountains and gleaming lakes later…
we arrived at "Upper Paradise Lake". It sure was paradise… breathtaking water, great company
and not a cloud in the sky!
We sat by the lake, had a light lunch and basked in the sun; it couldn't get better than that!
After chatting the time away, eventually it was time for us to leave so we started the journey
back. Heading back towards Anchorage was still such a dream, one that we didn't want to
wake up from. We landed back home after not much longer, feeling blissful but still sad to have
left.
Even though we explored a different paradise that day, we often forget that we have our own,
right here on Lake Hood. Until our next adventure!