Flying for Ukraine Air Rescue – Small planes, big mission by John Bone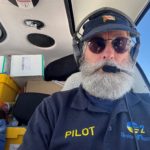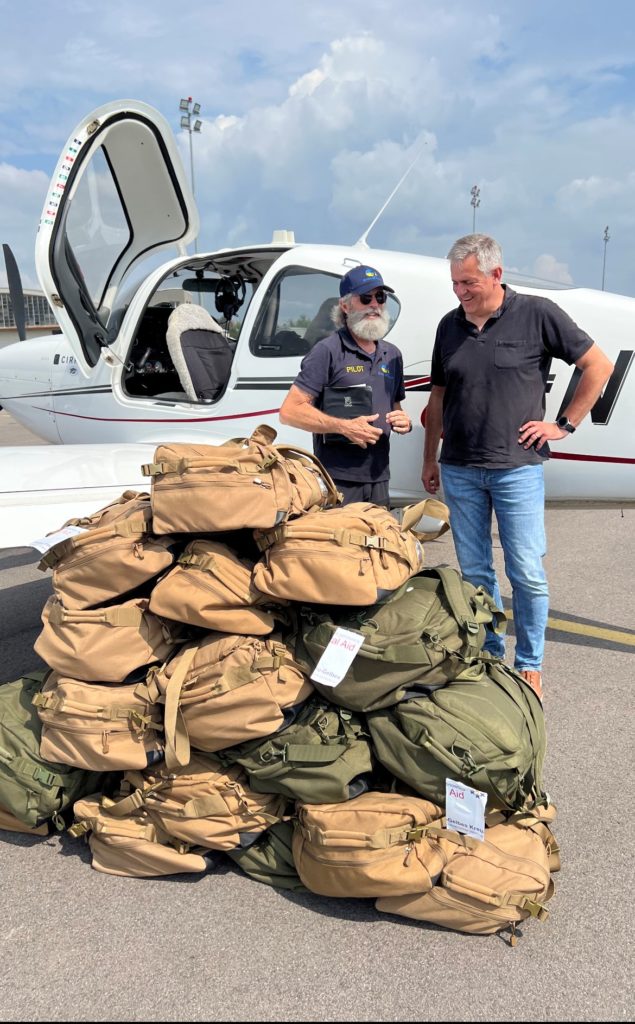 (Editor's note: Alaska Airmen's Association member John Bone sent me this story recently after I asked him about all the flying I saw him doing this summer over in Europe. Having flown to Russia in his Cirrus with him in 2019, I knew he would have a story to tell. And he did! He is back home in Florida now after spending a good portion of the summer doing humanitarian flights over in Europe. This story first appeared in Air Facts Journal, but John has given me permission to publish it in the Transponder for our members, too. All photos were submitted by John Bone – the guy with the beard wearing the "Pilot" shirt. This story shows just another example of the value of general aviation to us all in a crisis, and the many ways our members find to enjoy flying. If you have a general aviation story you'd like to share with our members, send me some info. I'll help you write the story if desired. John M. Dahlen – OneAlaskanGuy@hotmail.com.)
Soon after the Russian invasion of Ukraine in Feb 2022, two Cyber Security experts from Germany, Kay Wolf, founder and CEO of E2 Security, and Stefan Sahling of the German software giant SAP, set out to send supplies and aid to their fellow workers and friends in Ukraine. Given the chaos and bureaucracy of getting supplies across borders, the two devised a plan to fly the cargo in small planes. Their Ukrainian contacts would organize the ground transfer from Poland into Ukraine. Stefan, a pilot for over 15 years, and Kay, an aviation enthusiast, enlisted their friends who either had planes or access to them through flying clubs. Ukraine Air Rescue (UAR) came to life in just a few days. Within six months, UAR had grown to 313 volunteer pilots worldwide. The pilots range from retired or current airline and military pilots, flight instructors, professional pilots, an EASA safety inspector, and many VFR private pilots. The mix of participating airplanes is everything from the French-built Robin to Pilatus PC 12s. As of August 2022, there were 7 Cirrus's on the list.
I heard about UAR through a friend of mine in Kyiv, Ukraine. He had evacuated his home in the heavily bombed area of Irpin with his wife, cat, and several elderly neighbors. After several days in the woods and snow, they joined other refugees and ended up in the Czech Republic. Along the way, a UAR flight delivered supplies to them. A few weeks later, I flew from Florida to Germany via the North Atlantic route in my Cirrus SR22, the first US pilot to join the UAR forces.
Once in Germany, I found a well-organized, well-funded, and friendly group of general aviation pilots. The mission: Fly critically needed medical supplies to the Poland-Ukraine border and return with refugees needing medical care. Initially, I was based at Mainz-Finton (EDFZ) just outside of Frankfurt for 30 days and then at Bonn-Hangelar (EDKB) for another 30 days. The locations are determined by the needs of various Non-Government Organizations (NGOs) that UAR supports.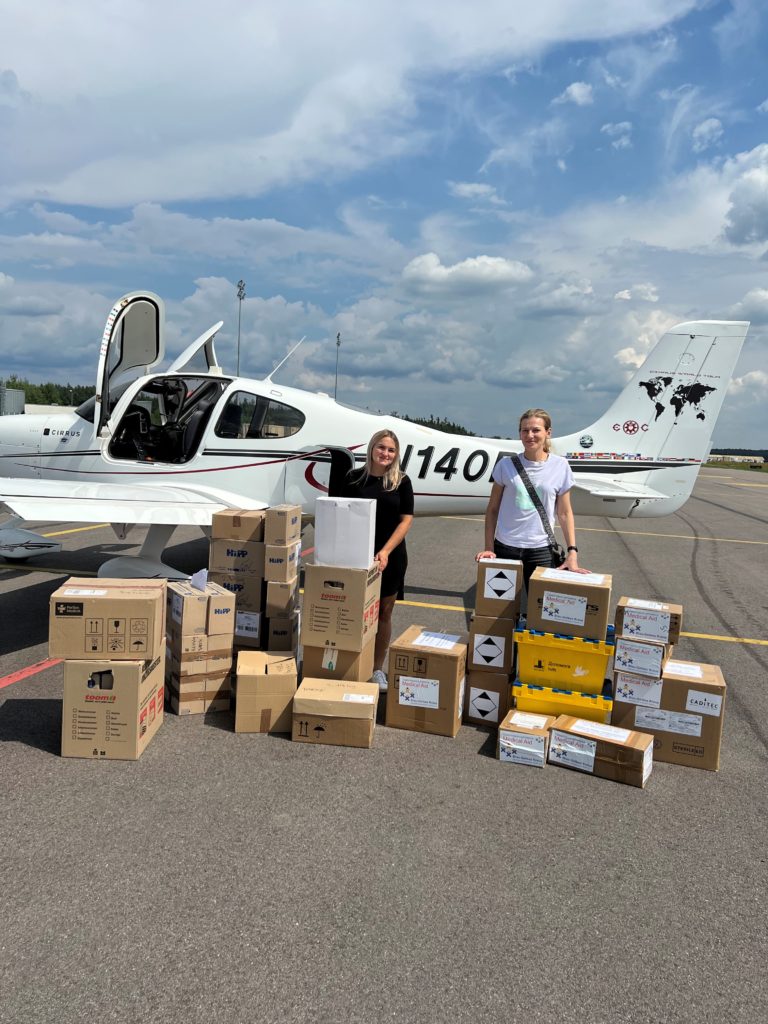 Flights are generally planned for Wednesdays and Saturdays and also on request. Mandatory briefings are held two days before the flight and again the day before each flight. Weather, load planning, flight plans, required approvals, return passengers, and NOTAMs are all briefed thoroughly. Cargo is delivered, numbered, and weighed, and a detailed manifest is prepared. All aircraft are required to operate within their required weight and balance limits. Depending on the airports used, the one-way distance from most German airports to the Poland-Ukraine border airports is approximately 550 kt miles, 1,200 kt miles round trip. In the Cirrus SR22, this is a 7-hour round trip flight and a 10-hour or more duty day. Other aircraft may take longer. Weather, mechanicals, and duty time sometimes require an overnight at the border airport. Ukraine airspace remains closed, and all flights operate within safe airspace and airports at all times.
UAR has become the air-link for several NGOs. There are a number of them supplying aid to Ukraine. These NGO"s move supplies via rail, truck, and sprinter vans, but when it comes to time-sensitive, critically needed medical supplies, a quick and reliable way to move them is through UAR. Flights are flown to airports in Poland that are near the Ukraine border. After landing, volunteer drivers with credentials to cross the border drive the supplies directly to their destination. It might be a hospital, a clinic, or locations along the front. The time from leaving the NGO warehouse to arrival at the Ukraine destination is one day.
Returning with the passengers can be an emotional experience. Arrangements are made through the NGOs for passengers to return to Germany on the flights. Passengers might be Ukrainian refugees or military, all needing medical care. Missing hands, arms, and legs are frequent. Also frequent are stories of atrocities committed by Russians. Email addresses and Facebook pages are all exchanged. New friends are made, and hospital visits might follow to check on them. At the end of the 10 to 12-hour day, you are drained.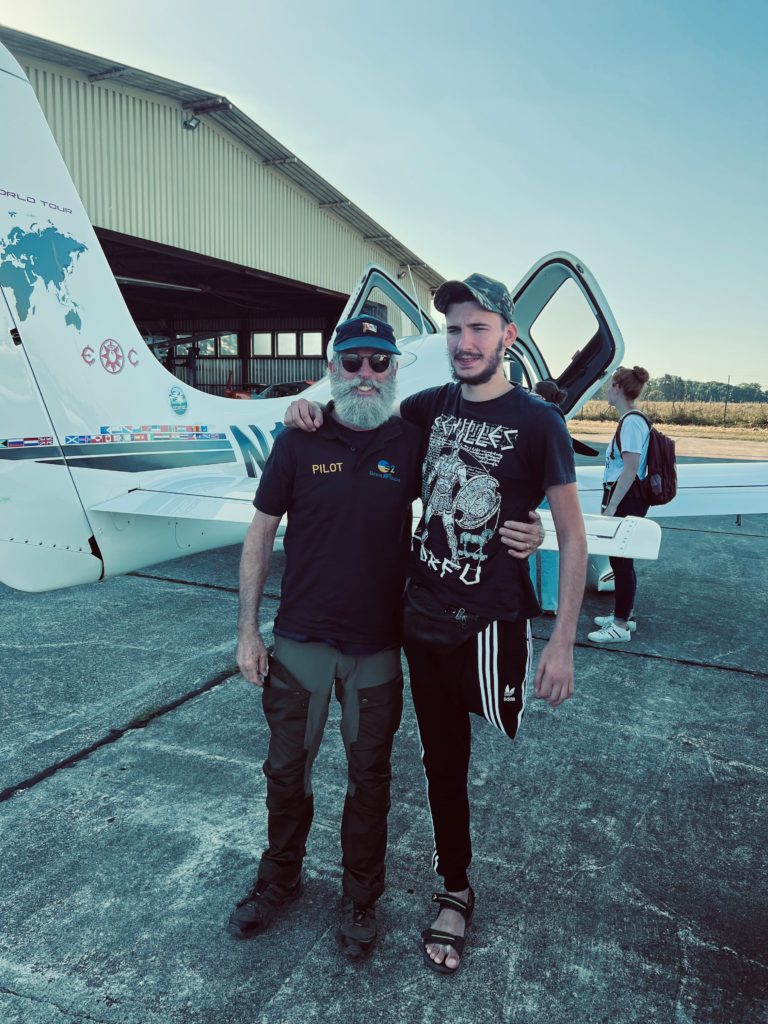 Volunteer pilots also volunteer their planes. You might ask, "is there not a better way to move these supplies than small planes?" The answer is probably yes but at what cost? On a typical UAR mission, there might be anywhere from 3 to 6 planes leaving from two or three different airports supporting two or three NGOs. Sometimes 2,000 to 3,000 lbs or more of medical supplies. The volunteer pilots provide their planes and, sometimes, even pay their own fuel costs. Other times there are donations available for the fuel. The cost of the flight transportation to the NGO, and ultimately to the end user, is zero. Since most NGOs operate through donations, the cost of the goods delivered to the user is also zero. It is so efficient that during the two months I volunteered, we quickly moved over 200 Ukraine Army Medic Backpacks at $1,000.00 per backpack, all either donated or paid for through donations. All are delivered to locations along the front at no cost to the Army. Try running the same through the Pentagon.
While there are several humanitarian flight organizations worldwide, Ukraine Air Rescue is likely by far the largest group of general aviation pilots ever assembled for a single cause. Here, general aviation pilots, many of whom are VFR pilots, have bound together and are using their planes in a manner that significantly contributes to the Ukraine effort. In the first six months of operation, the group had flown over 70 flights, carried 52 passengers needing medical care, hauled over 37,000 lbs of medical supplies, and delivered over 200 medic backpacks.
What does the future hold? As the flight demand grows, so does the network of pilots and planes. Most of the Ukrainian airports have been destroyed, but pilots within the Ukraine are already preparing serviceable grass runways in anticipation of the war ending and the airspace opening. When it does open, there is no doubt that Ukraine Air Rescue will be some of the first planes to deliver aid into Ukraine.
If you are interested in flying your plane for a higher cause: www.ukraine-air-rescue.de/en.
John Bone (AOPA #10008191) is an Alaska Airmen's Association Member, a retired Delta Airlines Captain, and a Cirrus Standardized Instructor Pilot based in Apalachicola, FL. You can find him at www.forgottencoastflyers.com