Convective Aviation Weather Survey: Voice your Opinion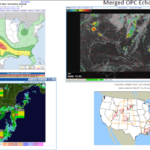 Tom George, AOPA Alaska Regional Manager
Convective weather gets all pilots' attention, regardless of whether they fly airplanes that are large or
small. As a result, it is probably not too surprising that there are more than a dozen different types of
forecasts that are used to predict convective weather. The FAA is currently conducting a short survey to
learn, not only which products pilots use, but what qualities they think are most important to be
reflected in forecasts of this nature.
More than a dozen forecasts?
The FAA's Aviation Weather Demonstration & Evaluation (AWDE) Services team is conducting a short
SurveyMonkey questionnaire that only takes about five minutes to complete. Since the survey is being
sent to a broad cross section of users, including Part 91, 135 and 121 pilots and dispatchers, it includes
fourteen different convective forecast systems, including some I had never heard of. It is interesting to
see what some of the systems looked like and to learn, for example, that there is an Offshore
Precipitation Capability forecast covering the western Atlantic and Gulf of Mexico.
Focus on decision making
In addition to asking about individual forecast products, the FAA is looking for feedback on the utility of
the convective products and what qualities users most desire to help them make flight-related decisions.
Questions about the need for accuracy and consistency are included, along with the time frames—how
far into the future—forecasts are needed. Because this survey is national in scope, not all products in
the survey include Alaska—but that should not be a deterrent, as some of these will be extended to
cover our state in the near future.

Please take five minutes of your time to look at the products, answer the questions and help influence
how weather products are developed in the future.
https://www.surveymonkey.com/r/QSV8269
Tom George serves as the Aircraft Owners and Pilots Association's Regional Manager for
Alaska. He resides in Fairbanks and owns a Cessna 185. He may be reached at
tom.george@aopa.org or 301-695-2092.
A selection of some of the fourteen convective weather products included in the survey.