An Alaska Airman in Atlanta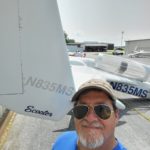 By Bob Lee
On August 19th I had the opportunity to attend a very low key gathering of
Canard aircraft called "Canards Over Georgia" at KFFC (Atlanta Regional Airport
Falcon Field) in Peachtree City, GA. This was the 11th annual gathering. The fly-in was
hosted by the owner of an E-Racer homebuilt canard who is also a Delta Airlines pilot.
The event was well attended with a total of 11 Canard aircraft and a rented C-172 (his
Long EZ was down for maint) traveling in from as far away as Michigan, Illinois, Texas,
Virginia, and Ohio. There were another handful of folks that flew in commercially or
drove to the event. The weather was CAVU with temps in the high 90s. I got the award
for travelling the furthest, lol. The fly in happened to coincide with a work conference I
was heading to in Atlanta. There were so many questions about "flying in Alaska". I
was happy to answer their questions and brag a bit about the Alaska Airmen's
Association as well. Several of them have flying their canards to Alaska on their bucket
lists. I told them about a friend of mine that flew his Long EZ from Sacramento, CA to
Barrow and back in July. He visited many Alaskan airports on the way up. Wanting to
get home on time he flew from Barrow to Ketchikan, Ketchikan to Paine Field, then on
to Sacramento. Our machines have some long legs. Being a long time Canard driver
myself, I really enjoyed the camaraderie there at the event. It reminded me of our
aviation gatherings where no matter what occupations we have, we are all just Plane
people, lol. So hopefully this will bring a few more Canards up here to visit in the next
several Summers.