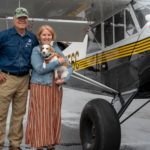 By Paul Scoskie
12FEB1973
Preston Airport Morgantown New Jersey. The day that started fifty years of flying both commercially
and fun. From the first day, at that time rural New Jersey. My journey has taken me to many parts of the
globe. Upon retiring from a major airline, I was in my office, Fall of 2022, bringing my logbooks up to
date. A logbook was not my thing in the airlines. The small book that was kept was just for my General
Aviation time. The company recorded all my Part 121 time and that was fine by me.

So, there I was looking over my GA book and thinking about the past and wondering how this trip
brought me to Alaska. Looking at the different airports and the memories of past adventures. Then I
realized, I have been to all the States that make up the lower 48. Sure enough, not counting airline
flying I have flown in 49 states. A phone call later with a friend in Hawaii, (Craig Kahauolopua, who is
Captain at a major airline) a lose plan formed to fly a Cessna 172 in my fiftieth State on my 50th
anniversary 12FEB2023. Life got in the way but on 21FEB2023 the goal of 50 States in 50 years
happened in GA aircraft. Also, on 10Jun2023 I surpassed 25,000 hours while flying my Husky. I am
blessed to be able to continue flying. Come to MARC in Soldotna and we can swap stories of our
adventures… Looking forward to the next 50 years.